The diagram below provides an overview of the main features of our whiteboarding tool Vibe Canvas, when you launch it on the Vibe Board.
---
This article applies to the Vibe Smartboard Pro 75″.
---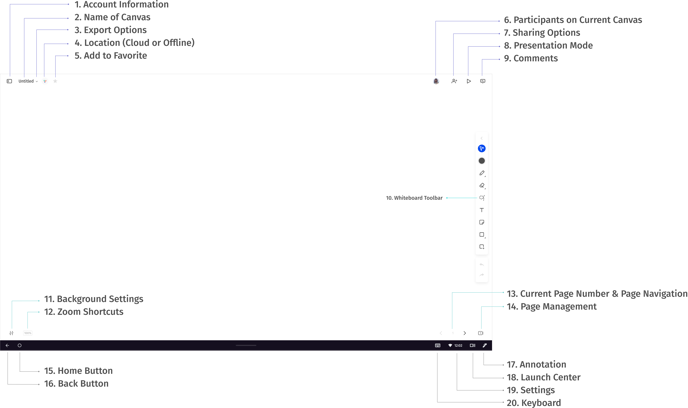 1. Account Information - When signed into your Vibe account, you can select this feature to view your profile or switch between your Vibe Canvases. This is also where you can create folders and access your templates.
When you are not signed in, this icon will look like a diagram of a person, and the title will include "Guest Mode". To sign in to your account, you can tap the guest icon to bring up the login window.
2. Name of Canvas - To edit the name of your Vibe Canvas, please tap on the dropdown arrow "v" to the right of the name to access the "Rename" feature.
3. Export Options - Use this dropdown arrow to easily Rename your Canvas, Export as PDF, or Export to Email.
4. Location - By default, you will be saving boards automatically to the Vibe Cloud (this setting is required for remote collaboration).
5. Add to Favorite - This little star allows you to favorite your Canvases, so you can find them a lot easier in your Account panel.
6. Participants on Current Canvas - When you share a Canvas with participants and they join you on the same Canvas, you will be able to see their icon. If you click on their icon, you will also be able to "Follow" them until you click on the page again. When Following another participant, you will see their exact view of the Canvas, i.e. the zoom level and page they are on.
7. Sharing Options - Share the current Canvas via Email, Link, or Canvas Code.
8. Presentation Mode - This feature is for giving presentations when using the Vibe Canvas - when selecting this feature, all the UI will be hidden and your Vibe Canvas will launch in full screen. To bring up the Whiteboard Toolbar and the Page Management options, simply tap the screen. To exit Presentation Mode, click on the Stop Presentation icon again in the top right corner.
9. Comments - Tap on the Comment icon to enter the commenting mode. You can add, view, and reply to comments to respond to feedback and iterate more efficiently.
10. Whiteboard Toolbar - This is where you can switch between different whiteboard features (pen, highlighter, sticky notes, etc.) The Toolbar can also be moved from side to side, or do a long press to move the Toolbar to your desired location.
11. Background Settings - This feature allows you to adjust your Canvas background. You can change colors as well as adding dots, grid lines, or coordinates.
12. Zoom Shortcuts - Even though the Vibe Canvas is infinite, the zoom levels are not. These Zoom Shortcuts will let you quickly use "zoom to fit" to find all of your content quickly.
13. Current Page Number & Page Navigation - This number shows which page you are currently on. You can also tap on the "< >" sign to navigate back and forth to different pages. When you're on the last page, you can also tap on the ">" sign to create a new page. Each Canvas is limited to a maximum of 100 pages.
14. Page Management - This number shows the total number of pages on your Canvas. Tap on the number to open the Management side panel, where you can rearrange pages, delete, duplicate, or add additional pages to your Canvas.
15. Home Button - Tap the Home Button to bring up your Screen Saver, Casting Guide, and App List menu.
16. Back Button- Select this arrow to go back when navigating 3rd party applications (such as Chrome or PowerPoint).
17. Annotation - With Vibe's Annotation feature, you can annotate on top of any 3rd party application. You can also take screenshots, and save these screenshots back to your Vibe Canvas.
18. Launch Center - The Launch Center is where you can easily switch back and forth between open applications. This is also where you can launch a split-screen for 2 applications.
19. Settings - Tap on the wifi and time to open the Control Panel. You can find the device's Settings menu, connect to Wi-Fi, take a screenshot, adjust the volume of your Vibe Board, or submit a Feedback log.
20. Keyboard - Tap on the Keyboard icon to bring up a keyboard on your screen for typing.